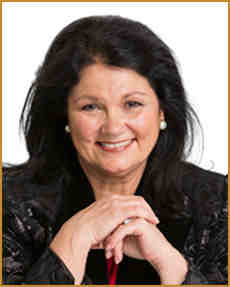 When it comes to being able to 'monetise' a business for sale, Kerry Boulton has over $15.4 million worth of runs on the board from businesses she has successfully helped build and sell over the past three decades.
Described by most people who meet her as an elegant, serial entrepreneur, Kerry was the first woman to manage and own an international freight forwarding company when she negotiated the buyout of Freight Management International, a division of the publicly listed company, Mayne Nickless Ltd.
Following her purchase of Freight Management International in 1987, the business was successfully sold nine years later after a multimillion-dollar dollar turnaround – giving Kerry one of the biggest pay days of her career.
Kerry has always been known for being "ahead of the game". Pioneering Nexus Business Coaching in 1996, the company was well established before "business coaching" became popular. Kerry was also Managing Director of FastTrac Victoria Pty. Ltd. Through Executive FastTrac™, Kerry delivered state-of-the-art business development programs for entrepreneurs and intrapreneurs seeking to improve and grow their businesses.
Together with her husband, Kerry has been a partner in two real estate agencies, selling the first for a multiple many times above the industry norm. The second is an actively growing business.
Not one to stand still for very long, Kerry also channelled her entrepreneurial energies into her children's schools and the local community, while maintaining several pro-bono advisory board roles.
Over the past 20 years Kerry has mentored many owners through successful business growth… positioning them for their ultimate sale.
Despite leaving school at 15, Kerry achieved a Master's Degree in Entrepreneurship and Innovation at the Australian Graduate School of Entrepreneurship in 1999. She was later invited to teach MBA students on the subject of Business Planning as an Adjunct Teaching Fellow at Swinburne University.
Over the years, Kerry has worked with innovative and prestigious businesses such as:

Toyota Motor Corporation


Ericsson Australia


Telstra


Ford Motor Company


Domino's Pizza


Alternative Plastics Australia


City of Melbourne


Aussie Bodies


CMTP Packaging Materials


Qantas


Queen Victoria Market
…to name a few.
For more than 20 years Kerry has been a sought-after speaker and facilitator. She has given presentations and workshops relating to entrepreneurship, strategic thinking, management and business growth for many organisations, including…

Melbourne Business School


Macquarie Graduate School of Management


Deakin University


Swinburne University


Monash University


Australian Graduate School of Management


The Leadership Consortium


Committee for Melbourne


The CEO Forum


Institute of Chartered Accountants


Australian Institute of Management
A past member of the Advisory Board to the David Syme Business School at Monash University, Kerry was also a member of the Advisory Board for the Australian Graduate School of Entrepreneurship at Swinburne University and served on the Advisory Committee for the Doctorate of Business Administration (DBA).
After serving on the judging panel for the Telstra Business Women's Awards for six years, Kerry was nominated by her clients and became a finalist in 1999. She has appeared in the BRW, The Age, The Australian Financial Review, with George Negus on New Dimensions on ABC TV and with Elaine Canty on ABC Radio.
Kerry was coaxed out of "retirement" in 2013 and is now founder and CEO of The Exit Strategy Group. The Exit Strategy Group helps business owners and CEOs to maximise business value while systematically developing a parallel exit strategy. They will be well positioned to "cash out"… when they want to – on their own timeline, feeling fulfilled, satisfied and with a pay day they deserve.
Kerry Boulton is the international author of The Uncensored TRUTH About Exit Strategies – 10 Myths Every Business Owner Must Know Before Creating Their Exit Strategy. She lives in Melbourne, Victoria with her husband and their son and daughter.